Here is a recent article (April 10, 2019) by Ditas B Lopez in Bloomberg:
The ranks of the poor in Philippines are moderating as the nation sustains among the fastest economic growth in the region.
Filipinos living below the poverty line were estimated at 21 percent of the population in the first half of 2018 compared with 27.6 percent in the same period in 2015, the Philippines Statistics Authority said in a report on Wednesday. The poverty incidence, based on a survey conducted every three years, eased even as inflation accelerated last year.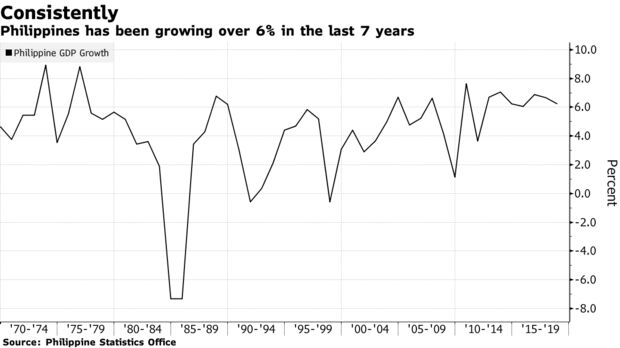 Poverty declined as infrastructure projects created new jobs and the state expanded its cash handouts. "Thanks to sustained economic growth and critical and broad-based reforms and investments that have translated to employment-generation and social protection," according to Economic Planning Secretary Ernesto Pernia.
The Philippines is working to meet its target of reducing the poverty rate to at least 14 percent by the end of President Rodrigo Duterte's term in 2022, his spokesman Salvador Panelo said. To meet that goal, at least a million Filipinos must be lifted from poverty each year. The nation can become an upper middle-income country this year, ahead of its 2022 target, Pernia said.
Highlights
The poverty threshold — the minimum amount a family of five must have to meet basic food and non-food needs — is pegged at 10,481 pesos ($201) a month in the first half of 2018. That's 11 percent more than in the first half of 2015.
Filipino families with incomes below the poverty line were estimated at 16.1 percent in the first half of 2018 . That's less than 22.2 percent in 2015.
Subsistence incidence or the ratio of Filipino families with incomes below the food threshold of 7,337 pesos a month was estimated at 6.2 percent. That compares with 9.9 percent in 2015.
Poverty incidence was highest in the Autonomous Region in Muslim Mindanao in the south and lowest in Metro Manila.
Get More
The International Monetary Fund forecasts that the Philippines will grow 6.5 percent this year and 6.6 percent in 2020.
Self-rated poverty rose in the third quarter of 2018 with more than half of Filipino families considering themselves poor, according to a Social Weather Stations poll.
— With assistance by Siegfrid Alegado, Claire Jiao, and Andreo Calonzo